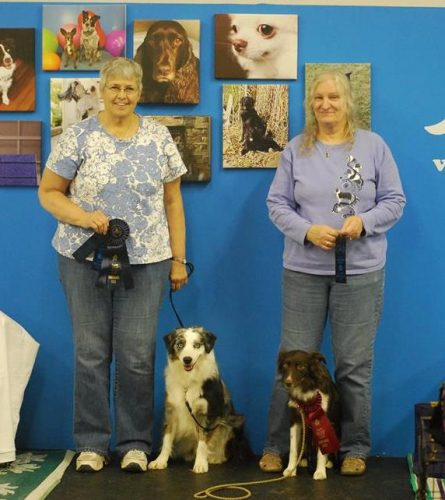 C-wags Rally Starters – October 2017 Judy and Carling, Jan and Molly
Ryzin is a NEW TD (Tracking Dog!!)
Congratulations to Marilyn Richards and Ryzin on earning a new TD title on Oct. 20, 2013!!! Wonderful!!
Christina Hirsch and Otis completed their Excellent Jumpers Preferred Title on Oct. 13, 2013!! Way to go you two!!
More Brags!
Feb. 10, 2013 Christine Hirsch and her Boxer, Charlotte earn their first Novice A leg at the Toledo Kennel club show–Way to go!!!! We are very excited about your accomplishment!
Christine and Charlotte earn a 2nd leg at Cleveland All-Breed!! All of your hard work is paying off!
Gloria Oravec and Dreamer earned her Starter Rally Title (CW-SR) at the CWAGS trial at Canine Sports. This team has many real nice runs!!
Christy and Beau-D earn their first Utility leg at the Fulton Co. show, earning a 194.5

Feb. 10, 2013 Beau-D and Christy earn their second High in Trial at the Toledo Kennel club out of the Open B class! They won a three way run off with a score of 198.5.
Beau-D (CH Morgen's Lil'Bit of Skyefire TD CD SH WC CCA)
earns High In Trial at the IX Center Dec. 15, 2012. This was the first time Beau-D was in the Open class.
To earn High in Trial (HIT) a dog and handler must have the highest score in any of the regular obedience classes at a trial. If there is a tie, there will be a run-off between the two dogs–Beau-D had to win a run off to earn this HIT!
August 4th and 5th, Christy and Beau-D compete in the All Star Tournament in York, PA. Beau-D WON the Novice Dog class, beating over thirty dogs and loosing only 5 1/2 points out of 600.
Way to go Beau-D!!
On July 16th Gizmo (handled by Alyssa) got his CD title!!
CD – Companion Dog – is the first in the Obedience titles. You need 3 qualifying scores to achieve this title. It involves heeling on lead, figure 8's, heeling off lead, standing for exam, recall, group sit of 1 minute and group down of 3 minutes.

CONGRATULATIONS to both Gizmo andAlyssa!!!
Rylie
On Sunday, July 11th Rylie earned her C-ATCH which is her CPE Championship!!! (CPE is Canine Performance Events.) The course was extremely challenging (e.g. doing the dogwalk twice with tunnels on both ends!) and the weather was hot (90 degrees) and sunny! Many dogs went off course but not Rylie who, in the style of a champion, was steady and true. Congratulations to Rylie and her human, Jan!!!
Diva brags……
In December 2009 Diva received the title of Outstanding Dam (OD) from the Golden Retriever Club of America! Diva had one litter of puppies who have earned numberous titles in agility, rally, obedience, conformation and field trials!! Ramona writes " I am so proud of her puppies and the honor they have made possible for her."
Brags for Gizmo
On Mother's Day 2010 Gizmo got his Tracking Dog (TD) title!! A TD test is done to see how well a dog can track human scent and find the articles left for them. The dog follows a pre-plooted course that is between 440 and 500 yards in length containing 3-5 turns and is 1/2 to 2 hours old. It is a sport where you have to trust your dog!! His nose tells the way so you can hang on and go with your dog. Marilyn and Gizmo ran his track in 4 minutes!!!
Starr at the Papillon Specialty 2009