STAY!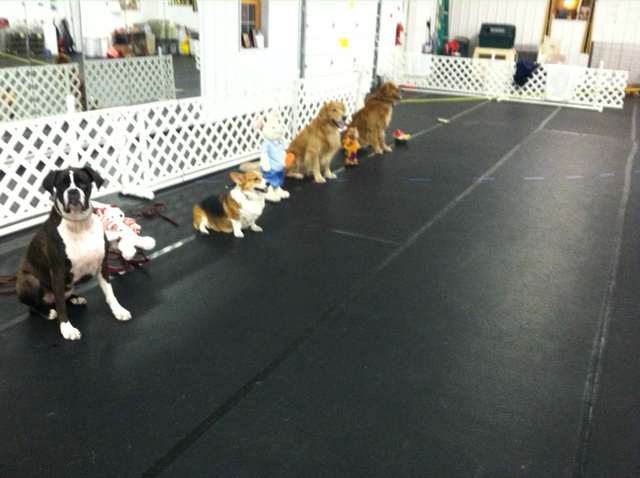 Obedience Classes – Pet and Competition
Obedience Classes:
Obedience classes at Canine Sports are broken down into two main areas: classes for pets and classes for competition. Below are the descriptions……
---
Pet Classes:

S.T.A.R. Puppy
for puppies 6 months and under
   Focus on socialization with other dogs and people.   The instructor will provide various strategies to help with puppy behaviors such as jumping, biting and barking. You will also learn how to teach basic commands, such as come, sit, leave it, etc.  
AKC S.T.A.R. Puppy assessment will be done at the end of each session (6 weeks required by the AKC)

Basic Obedience
The instructor will provide strategies to help improve communication with your dog. You will learn how to teach leash respect, sit, down, come and stay to your dog. 

Fun and Games 101 (offered only occationally)
Dogs and handlers will be introduced to a variety of fun things to do! For example, crate games, obedience skills, rally games, basic introduction to  agility, basic scent work etc. **
**Requirements: Dogs need to be at least 6 months old and have previously our puppy and/or basic obedience class
AKC Canine Good Citizen classes will be held from time to time so individuals and their canine companions will be prepared to take the AKC CGC test
---
Competition Classes

Skills and Drills for Competition
An intro to competitive obedience. Focus on basic skills of attention, heeling, stays, stands, recalls, fronts and finishes. The more advanced dogs in this class will also work on skills needed to enter the AKC Graduate Novice class. Class is ongoing

Ring Ready and Proofing for the Ring
Designed to help students and their dogs who are getting ready to compete. The focus is on attention, recalls, heeling, retrieves, jumping, stays, fronts and finishes. Proofing will be provided to prepare dogs for the show ring. Advice to how to prepare for showing is also  provided. Class is ongoing.
Utility (as needed)
The instructor teach the various skills necessary to show in the Utility. Skills include, go-outs, directed jumping, scent articles, heeling off leash, signals, moving stand for exam and directed retrieve. Each exercise is broken down into small components so the handler and dog can develop the necessary skills. Proofing is also provided as well as ring preparation. This class is ongoing.
Rally class is offered to students who wish to learn the sings and how to show in Rally. Signs are introduced and practiced.

Call 440-967-DOGG (3644) for more information